Streamline Your Enterprise Communication with TxtSquad
Experience the Power of Enterprise Texting – Simplified, Automated, and Evolving with Your Needs.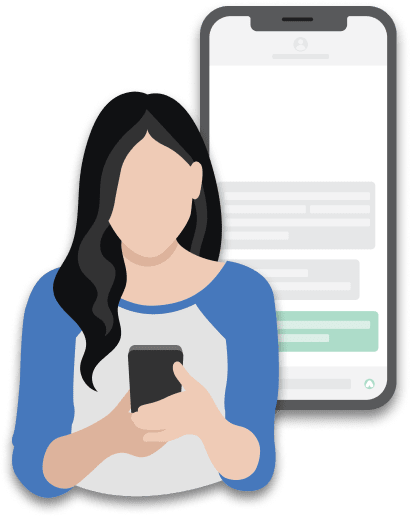 What are Enterprise SMS Solutions?
Enterprise SMS solutions, also known as business texting software, are powerful platforms designed to help businesses communicate more effectively and efficiently. These platforms offer a wide array of features to manage and automate the process of sending and receiving text messages on a large scale.
What makes enterprise SMS solutions truly remarkable is their versatility and adaptability. These systems can be used in a multitude of ways, such as sending out mass SMS broadcasts and reminders, conducting SMS surveys and polls, handling two-way conversations, and even deploying automated responses or chatbots. This streamlined and efficient communication approach enables businesses to engage with their customers, employees, or stakeholders in a timely and personal manner.
As businesses grow and their communication needs evolve, an enterprise SMS solution proves to be an invaluable tool. It's not just about sending text messages — it's about transforming the way businesses communicate and engage with their audience.
TxtSquad: The Ultimate Enterprise Texting Solution
The right communication tool can revolutionize your business operations and foster stronger, more meaningful relationships with your audience. That's where TxtSquad comes in. With its range of cutting-edge features and a strong commitment to user-friendliness and continuous evolution, TxtSquad stands out as the ultimate enterprise texting solution.
TxtSquad offers a robust suite of features tailored to meet your business needs. From Mass SMS Broadcasts and 2-Way Conversations to Automated Contact Creation and SMS Surveys & Polls, TxtSquad has got you covered. Need to automate your communication? No problem. With TxtSquad's advanced automation features, you can schedule broadcasts, set up auto-replies, or launch Sequences with ease.
We also understand that no two businesses are alike. That's why we're committed to constantly evolving and introducing new features to meet the changing needs of our users. TxtSquad's capabilities are continuously expanding to help you stay ahead of the curve.
Discover the TxtSquad Difference: Simple, Automated, and Continuously Evolving for Your Business Needs
In today's fast-paced world, businesses require communication tools that are not only effective, but also intuitive and versatile. TxtSquad sets itself apart by providing an SMS solution that is incredibly easy to use, packed with automation features, and constantly evolving to meet your growing business needs.
With TxtSquad, you don't just get an enterprise SMS solution - you get a powerful, evolving partner committed to helping you communicate more effectively and build better relationships.
Ease of Use
TxtSquad's user-friendly interface ensures a seamless user experience, enabling even those with minimal technical expertise to manage and optimize their business communications effectively. Every feature, from setting up automated texts to conducting SMS surveys and polls, is designed to be straightforward and efficient.
Automation Features
Spend less time on routine tasks and more on what truly matters: your customers. With TxtSquad, you can automate a wide range of functions such as mass SMS broadcasts, two-way conversations, Sequences, and auto-replies. These features are all designed to streamline your communication processes and improve engagement with your audience.
Integrations
Looking for more than just an SMS platform? TxtSquad's powerful integrations with popular apps and platforms such as Zapier and Hubspot and an advanced API mean that you can easily incorporate TxtSquad into your existing workflows, making it a true extension of your business.
Unique Features
TxtSquad offers a suite of unique features that allow for more personalized and efficient communication. Create personalized messages with our templating system, integrate TxtSquad with your favorite apps and workflows through our advanced integrations feature, or let our AI-powered chatbot handle routine inquiries and tasks. These features empower you to transform your business communication and engagement strategy.
Ready to Transform Your Business Communication?
If you've ever wondered how you can revolutionize your enterprise communication, TxtSquad is your answer. A streamlined, efficient, and versatile tool, TxtSquad is ready to step up your communication game to a whole new level.
But don't just take our word for it. Try TxtSquad for yourself and see the transformative effect it can have on your business. Whether it's improving customer service, automating communication, or effectively engaging your audience, TxtSquad is here to make it happen.
Are you ready to unlock the full potential of your business communication? We are excited to show you what TxtSquad can do for your business. Get started on your journey today and see the difference that a powerful, easy-to-use, and continuously evolving enterprise texting solution can make.
Enterprise Texting FAQs
Absolutely! With TxtSquad, setting up automated text messages is a breeze. Whether you're looking to schedule timely reminders, send out regular updates, or maintain constant engagement with your customers, our platform has you covered. Features like Auto Replies and SMS Sequences are especially handy for businesses looking to automate their text messages. Auto Replies allow you to set up automated responses based on predefined rules or keywords. This way, your customers get immediate acknowledgment or assistance, even outside of business hours. On the other hand, SMS Sequences let you send a series of automated text messages over a set period, keeping your audience engaged and guiding them towards desired actions or conversions.
Experience the convenience and effectiveness of Automated Texting and Scheduling